Ricky Williams is a lot of things.
He's a Heisman Trophy winner, a world traveler, a coach at the University of the Incarnate Word; and now, he's the all time worst Saints' draft pick used on a running back.
Williams joined the Saints in 1999 as the fifth overall pick coming off a monster year at the University of Texas. In 1998 he ran for nearly 2,400 yards and scored 29 touchdowns in twelve games (for those of you who aren't math majors, that's nearly 200 yards and two-and-a-half touchdowns per game).
It comes as no surprise that he was a highly coveted pick; so coveted, in fact, that the Saints were willing to do just about anything to get him.
And then head coach Mike Ditka did exactly that.
Ditka traded each and every pick the Saints had in the 1999 draft to the Washington Redskins for Williams and a first and third round pick the following year. This was the first time in NFL history that a franchise only had one pick in an entire draft, leading to Ditka and Williams posing for the cover of ESPN The Magazine as a bride and groom.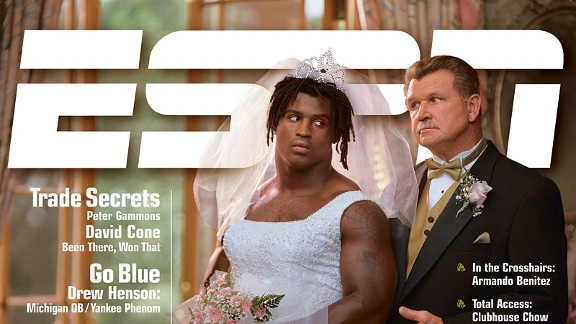 Williams spent three years with the Saints, only achieving moderate success. He did manage to rush for 1,000+ yards twice in that time-span (2000 – 1,000 yards / 2001 – 1,245 yards), however his best year in a Saints uniform would also be his last. In 2002 he was traded to the Miami Dolphins for two draft picks, attempting to repair the damage done by Ditka's firesale trade. Also because of that trade (plus the team's poor performance) Ditka relieved of his coaching duties in 2000.
Williams went on to have a productive career in Miami, including leading the league in rushing in 2002 and earning a Pro Bowl selection. From there, well…we all know what happened (and if you don't, just watch the ESPN 30-for-30 documentary 'Run Ricky Run').
What makes Williams the worst running back draft pick of all time isn't necessarily his mediocrity in three seasons, but in fact what the Saints gave up to get him. For perspective, the Redskins used the draft picks they received to pick Pro Bowlers like Champ Bailey, LaVar Arrington, and Jon Jansen. Williams game-breaking talent did not immediately translate to the NFL, and the Saints probably set their franchise back nearly six years (the time until Drew Brees came to town).
---

Make sure you follow @cover32_NO and @cover32_NFL on Twitter for all the latest breaking news, columns, blogs and features from the Saints and the entire NFL.