When a good player plays in the right system, it can be a thing of beauty. When I think of perfect fits, I think of Marvin Harrison in Indianapolis or Marshall Faulk with the Rams. And to a much smaller degree, I think Lance Dunbar is a perfect fit in Scott Linehan's offense and 2014 will be a breakout season for him. And I'm not the only one who thinks this. There has been a lot of hype surrounding Dunbar from the national media and it should grow louder as we get closer to the season:
Lance Dunbar might not get drafted .. But he will be on a fantasy roster in every league … Just a prediction

— Nick Eatman (@nickeatman) June 18, 2014
But before we get into Lance Dunbar specifically, I want to show why Dunbar is a good fit in this offense. In a Scott Linehan run offense, there is going to be a ton of work to go around for the running backs, particularly in the receiving game. As the chart below shows, any time Scott Linehan has been a coach, that teams' running backs have AVERAGED over 90 catches a season. That's a ton of work for the backs in the passing game. Check out the rest of the chart below:
(Click To Enlarge)

Here's my conclusion: Scott Linehan's running backs are going to be productive and catch a lot of passes, regardless of talent. But when you do give Linehan talent at running back like he had with Steven Jackson in 2006, Reggie Bush in 2013 or even Michael Bennett in 2003, they can put up some unbelievable stats. I think those three years, 2003, 2006, and 2013 are statistics that will be comparable to what DeMarco Murray and Lance Dunbar are going to put up in 2014. I also believe that this will be the best offensive line that Scott Linehan has ever had to work with. This is good news for Dunbar.
Lance Dunbar is a player who was born to be a complementary piece in this offense. And there's a notion that the word "complementary" means that he can't carry a full load and is only a specialty running back. While I don't think it's in the Cowboys or Dunbar's best interest for him to be getting 20+ carries a game, he can be productive in multiple ways.
(Click To Enlarge)
I actually struggled to find a good comparison for Lance Dunbar. He's short (which is actually good for a running back) not too light, and is an explosive athlete. He may not be a workhorse, but he make plays. My best guess? Think  Ahmad Bradshaw when he was at the peak of his career. Bradshaw could make plays at any point in the game and you always held your breath when he touched the ball. I feel the same way about Dunbar. Let's take a look at few GIFS from 2013 and some of the plays that he made: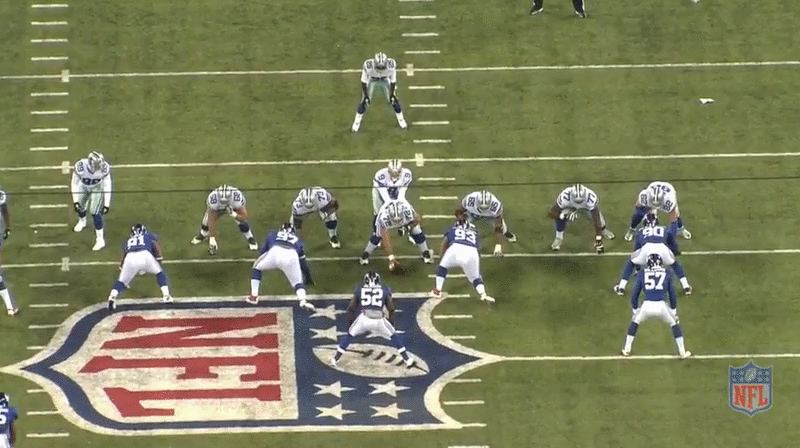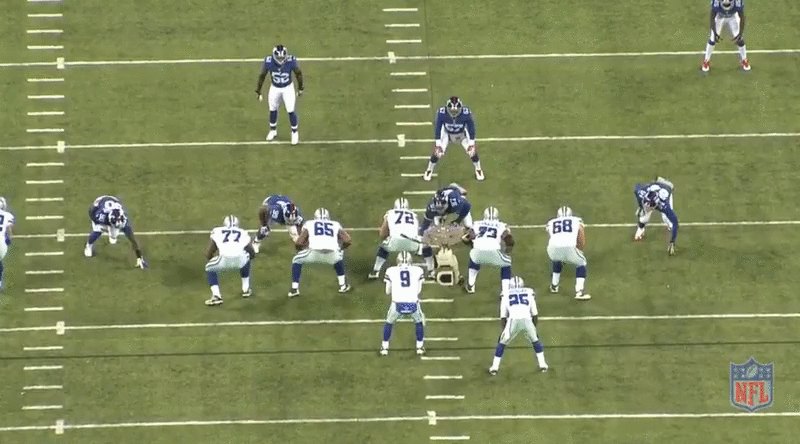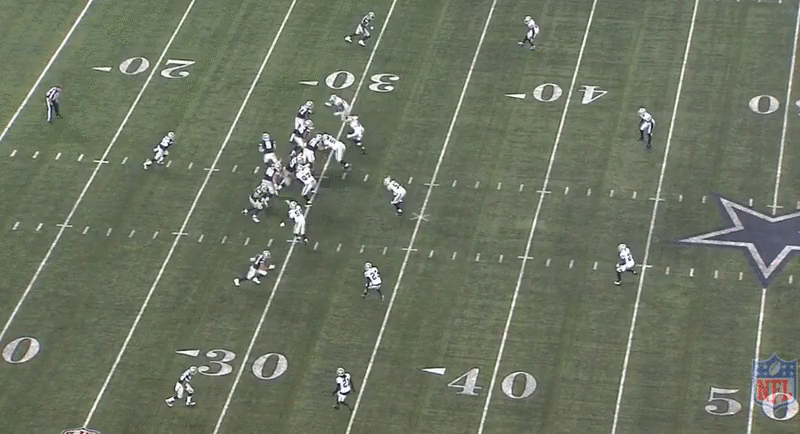 Dunbar has fantastic vision and a great feel of how to slither away from defenders. He's never going to run tacklers over or really away from them for that matter. He was even caught from behind on that long run during the Raiders game. But what I want you to see in that last GIF is how Dunbar uses his diminutive size to move like a snake between defenders. His short area quickness and explosion help him get into the open field quickly. In Dallas offense in 2014, we are going to see Scott Linehan try to get Dunbar in space often, much like he did with Reggie Bush last year. If the Cowboys do decide to use Dunbar like that, and all indications say that they are, he can thrive in that role.
If Lance Dunbar can stay healthy, and that's a huge if, I can realistically see him catching 40-50 passes out of the backfield and making a lot of big plays in the run game like Reggie Bush did for Detroit last year. Dunbar has the talent and couldn't be in a better situation given his skill set. I have a sneaky suspicion this is the year Dunbar finally stays healthy and breaks out. And if/when he does, it's going to be a lot of fun watching this backfield of DeMarco Murray and Lance Dunbar together.
[fanmob id="ebb64c00-2528-4cee-93de-e88c782fb3f2″]
Don't forget to follow your insiders: Ethan Taylor, Jeff Magnia, Marcus Mosher, Mark Lane, Matt Thornton and Michael Sisemore

Make sure you follow @cover32_DAL and @cover32_NFL on Twitter for all the latest breaking news, columns, blogs and features from the Cowboys and the entire NFL.