Ryan Ramczyk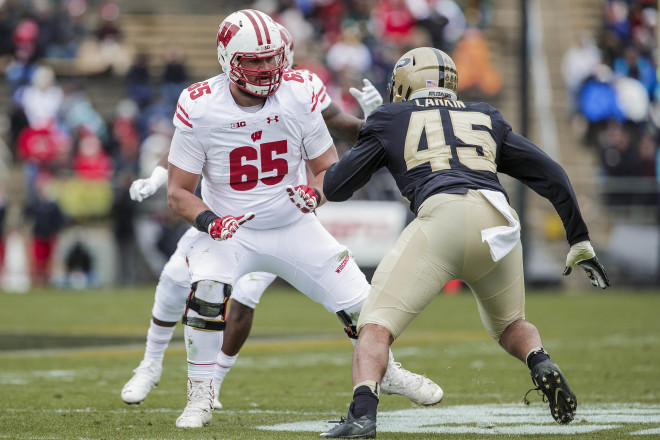 At the 32 overall pick, the New Orleans Saints selected Ryan Ramczyk from Wisconsin. Wisconsin has long been known as a program that pumps out NFL ready linemen. But, assuming that Ramczyk is a typical prospect for the Badgers would be a mistake. He has battled through some adversity to get where he's at today. The road has been slightly different than other first round selections.
The Long Road to the NFL
Initially, Ramczyk had turned down an offer to Pitt and decided to attend division II school, Winona State. Before football started, he transferred out and took classes at Mid-State Technical College. He then went to division III UW-Stevens Point, where he would play for the next two years. In his two years, he was awarded All-WIAC selections for both seasons. He was second team in 2013, and first team in 2014.
---
AROUND COVER32
Around the NFL: Buffalo Bills clean house after draft; part ways with Doug Whaley and scouting staff
What's Trending: Why 2017's Mr. Irrelevant may not be so irrelevant this year
cover32 Exclusive: Check out this exclusive interview with new Chicago Bears' WR, Tanner Gentry
This Week in NFL History: Taking a look back at some of football's biggest moments from April 30th – May 6th
---
He transferred to Wisconsin, where head coach Paul Chryst had taken over, and redshirted 2015. Ramczyk, in 2016, would take over the left tackle position and never look back. He started all 14 games, allowing only 8 pressures and one sack. He was awarded first team all american honors for an outstanding season. Pro Football Focus ranked Ramczyk as their top run blocker among FBS tackles on the season.
He has smooth footwork and a jarring initial punch
On January 5th, Ramczyk had surgery to repair his right hip and couldn't fully test athletically in the pre-draft process. Ramczyk stated, "The surgeon said there was less damage than he expected and it went well." When he is fully healthy, he's an absolute force in the run game. He demonstrates good power and pad level, and routinely moves defenders off the ball. He has smooth footwork and a jarring initial punch, and does well in pass protection.
Last pick of the first round
The journey has certainly not been a prototypical path for a first round selection. But Ramczyk looks to be hitting his stride now, and it looks like his best football is in front of him. Expect him to take over a spot on the line this season, and to be the mauling run blocker that the Saints need. Welcome your number 32 selection and newest Saint, Ryan Ramczyk.
-Jason Tyrant is the Senior Managing Editor at cover32 for the Saints. He also works as the Scouting Director at Tyrant Scouting. Follow on Twitter @Jason_Tyrant
Contact at: JasonTyrant@tyrantscouting.com