It's hard to say that any game this early in the season qualifies as a 'must-win', but the Bengals needed this one in the worst way. It's hard to say what would've happened if, after showing promise on the road in Green Bay, Cincinnati dropped a game to an inferior opponent in Cleveland and had to travel home with an 0-4 record and the bottom position in a middling AFC North.
Fortunately, that's not the chain of events that unfolded. The Bengals were supposed to win, they did so, and they did so in decisive fashion. Heading into Week 5, Cincinnati looks like a team with heavy upward momentum and a better outlook than their accrued wins and losses would imply.
​​
---
AROUND COVER32
​
​Why the Bears should keep OC Dowell Loggains, regardless of what happens this year
Packers RB Ty Montgomery has been under-appreciated
​​
Recapping the Vikings' loss to the Lions​
Breaking down the hottest news around the NFL this week
---
Four Quick Notes
1.) Here's a snapshot of Dalton's pass distribution against the Browns, per NFL.com's Next Gen Stats.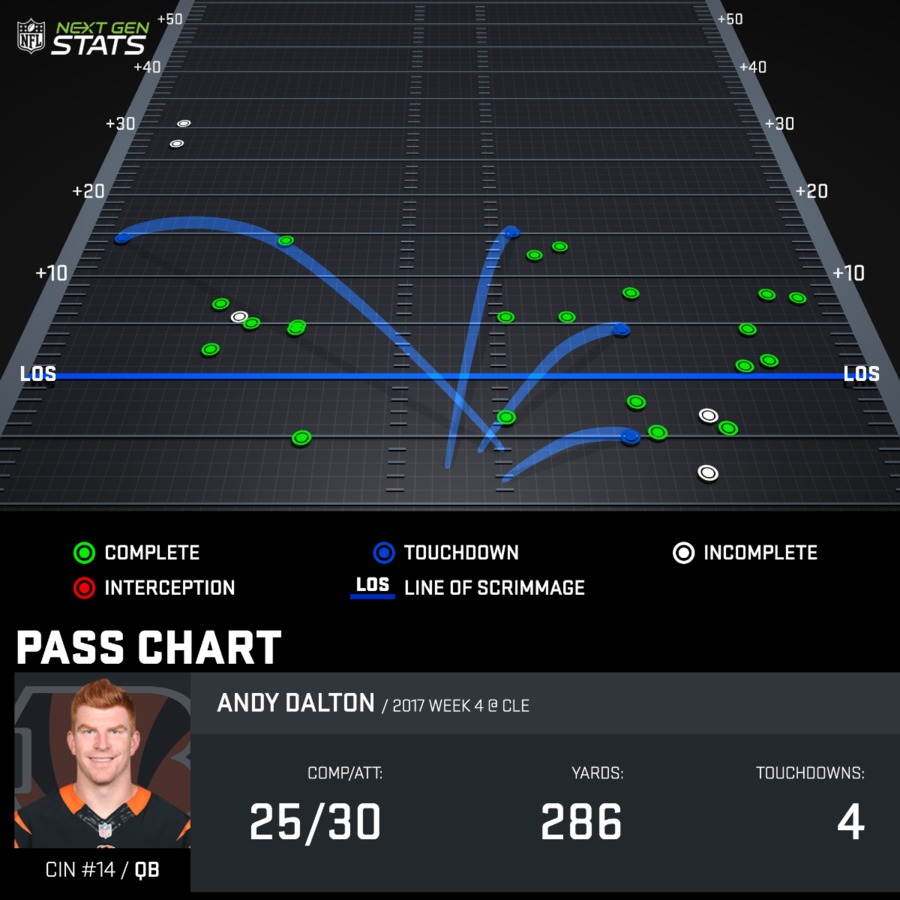 Any criticism of Dalton's performance has to be taken in proper context – it's not so much a criticism as it is an acknowledgement of what he did and didn't do. Yes, Dalton completed 25 of his 30 passes, averaged 9.53 yards per attempt and scored four touchdowns. He still only attempted two passes further than 15 yards down the field, and completed neither.
That's not necessarily a knock at all – a winning game plan speaks for itself, and Dalton didn't have to push the ball vertically at any point against the Browns. Obviously, however, a game plan that beats this Browns' defense won't necessarily allow Dalton to run the season with these kinds of numbers. Bill Lazor is still unraveling his offensive identity, and he likely has vertical passing concepts in the works, but it has yet to be seen how those will look and how well Dalton will react.
2.) The success of Dalton in the short/intermediate passing game against Cleveland overshadowed a striking lack of results on the ground. Dalton ran the ball four times on Sunday, totaling 29 yards. Joe Mixon totaled the same amount of yards on 17 carries.
The numbers look worse when factoring in the longest runs: Mixon's longest run being 10 yards meant that he was one break away from having 19 yards through 16 carries. Of those 16 carries, only two went for five yards or more. The problem extended past Mixon – Jeremy Hill, outside a long of 13 yards, totalled three yards on five carries.
In a game where Cincinnati had a long time to salt away the clock, the ground game should've produced to a far greater degree than it did. It's a reminder that, as well as Lazor has made the offense look through two weeks, he's still working around an offensive line that has rightfully been seen as a liability.
3.) Divisional Notes: Elsewhere in the AFC North, the Steelers and Ravens were busy renewing their rivalry at the same time as the Bengals and Browns. The resulting final scores weren't markedly different – Pittsburgh's 26-9 defeat of Baltimore is 7 points off of Cincinnati's 31-7 defeat of Cleveland, and the games themselves were similarly one-sided.
One key difference: Through the same amount of pass attempts (30), Ben Roethlisberger completed 18 passes for 216 yards and one touchdown to Dalton's 25 completions, 286 yards and four touchdowns. Conversely, while Dalton's backfield had a dismal day running the ball, the Steelers' Le'Veon Bell rushed 35 times for 144 yards and  two scores.
Throughout the draft process, few (if any) players were compared to Joe Mixon more often than Bell. Mixon doesn't have the offensive line that Bell enjoys, but he has the same skill set and will need to have a similar level of production for the Bengals to win by some point in the future. In the meantime, Cincinnati looks like a clearly better team than Cleveland, and a far better competitor for Baltimore than the results of their opening-day matchup would indicate.
4.) Conference Notes: After Monday Night Football, the Kansas City Chiefs sit alone at the top of the AFC (and the NFL) with a 4-0 record. Three teams in the AFC (Buffalo, Denver, and Pittsburgh) currently hold a 3-1 record, while seven teams in the conference sit at 2-2.
Cincinnati, at 1-3, is hardly buried in the AFC playoff race. They have ample opportunity to climb the conference ladder in their next few games as well – with Green Bay behind them, Cincinnati doesn't play another NFC opponent until they host Chicago in Week 14. Between now and then: Buffalo, a bye week, at Pittsburgh, Indianapolis, at Jacksonville, at Tennessee, at Denver, Cleveland, and Pittsburgh.
Looking ahead to such an extent is usually an exercise in futility, but it's likely that Cincinnati's playoff hopes will live or die based on their performance through this stretch. Three consecutive road games outside the division is a tough break. Having Cleveland and Pittsburgh in a consecutive home stand, plus having the trip to Heinz Field after the bye, is a nice bit.
Stock Up
Andy Dalton: Again, earlier remarks about Dalton's lack of downfield passing have to be taken in proper context. His performance against Cleveland was incredible – the best single-game performance of any AFC North quarterback this season, and especially promising considering how Dalton looked earlier this season. Dalton did what good quarterbacks should – he took a winning game plan and used it to stomp an inferior team. It sounds fundamental, but faithfully executing a game plan is important for quarterbacks.
Tyler Kroft: In his third season in the NFL, tight end Tyler Kroft more than doubled his career touchdown total against Cleveland. It would be one thing if Kroft's production was simply due to opportunities created by scheme – one of his touchdown catches was a him simply catching a ball that Dalton timed and threw perfectly. The other was Kroft, although still open, catching a ball over a linebacker and holding on despite an awkward landing. He looked like a starting-caliber tight end – something he's always been capable of being.
Stock Down
Tyler Eifert: Eifert, of course, didn't play, but Kroft's performance has to make Eifert's situation with the team a little less comfortable. Eifert, as has been mentioned before, is in a contract year, and his value to the team can be accurately measured in the drop-off at his position without him present. Kroft doesn't have to be an Eifert-level playmaker to seize this opportunity – he just has to be available and win the battles he's supposed to, as he did Sunday.
It's a script that's played out multiple times over the past few seasons, especially at the tight end position (where teams don't typically stockpile players). The emergence of Jack Doyle for the Colts years ago allowed the team to move on from 2013 draft picks Coby Fleener and Dwayne Allen. The emergence of Zach Miller in Chicago years ago allowed the team to trade the oft-unavailable Martellus Bennett. Eifert may be better than any of those names, but that'll be quickly forgotten if Kroft stays on the field in his place.
William Jackson III: After the impressive display he put up against Green Bay, Jackson showed against Cleveland that he still has ground to cover to become a starter. He broke up two passes, but he also gave up a 26-yard gain and committed two interference penalties. It's not backbreaking for the young corner's career, nor did it particularly matter in the outcome of the game, but it was one of the team's few truly poor performances. Especially contrasted with the bright performance of fellow young corner Darqueze Dennard.
Looking Ahead
Cincinnati's victory over Cleveland helped cement them as the capable team that fans thought they saw against Green Bay. In their next game, hosting Buffalo, they have the chance to assert themselves to those paying attention across the nation.
Buffalo, of the three 3-1 teams in the AFC, has had the most surprising run of success. Where several teams in the conference have played to well less than the sum of their parts, new head coach Sean McDermott and his staff in Buffalo have played to the ceiling of the roster's talent after overhauling the group late in the offseason.
While Buffalo has been a nice story so far in 2017, it's fair to question whether their success is sustainable. To say nothing of the present unit, Buffalo has the longest active playoff drought in the NFL (17 seasons) despite having multiple hot starts in recent years. Without yet delving into the intricacies of the Bills' roster and the matchup, this is a winnable game for the Bengals at home.
A more detailed breakdown of the matchup, as per usual, will be included in the Week 5 preview.
– Andrew Hammel is the managing editor for cover32/Bengals and covers the Cincinnati Bengals for cover32. Follow him on Twitter at @cover32_CIN and @AH_Badiak.