As we head closer and closer to the NFL Draft, I am beginning to ramp up my coverage of the prospects. I have already done one scouting report for this year, which you can find here, about Saquon Barkley. That report was done in November, and I've been itching to do more of them.
For this newest installment of scouting reports, I have done something interesting, but also somewhat trendy. I used Fanspeak's On the Clock Mock Draft Simulator to simulate the first four rounds of the 49ers draft class. The reason I did this was to get an idea of a wider range of prospects I should be doing in-depth reports on, not just the top prospects. For these next 5 scouting reports, I will be basing them off of the draft class I got below. I used Matt Miller's Big Board as of February 19, 2018, and I was on the "difficult setting," which is supposed to be more realistic.
First up for the new scouting reports is Georgia's stud Linebacker Roquan Smith. Smith was the 2017 Dick Butkus Award Winner, 2017 SEC Defensive Player of the Year, a consensus All-American, and the MVP of the SEC Championship against Auburn.
Projected Measurables (via NFL Draft Scout):
Height: 6'0"
Weight: 225
40 Time: 4.54
Strengths:
Range/Speed: Roquan Smith is one of the fastest linebackers I have watched in my time as an analyst. He has true sideline to sideline range and can run down running backs and slot receivers.
 In this clip from the Rose Bowl, Smith showcases his range by catching Oklahoma speedster Jeff Badet on an end around. Badet has legit breakawy speed and Smith ran him down like it was nothing.
 This play from the SEC Championship Game against Auburn is equally impressive. Smith showcases his elite closing speed as he effortlessly corrals the running back.
This is one of the most athletic plays I've ever seen from a linebacker at any level. Smith's speed is absolutely mind-blowing at times. His acceleration and explosiveness are off the charts on this tackle.
 Smith's range also shows up in pass coverage. He had no business being 30 yards back in coverage on this play, running stride for stride with a running back who runs a 4.3 40 (Will Hastings). And him going up for the pass breakup was just gravy. Dude is a cheat code in every sense of the term. Elite athlete.
Instincts: Roquan Smith made his money this year with his ability to read and react on a whim. It seemed that no matter what the offense threw at Georgia, Smith was ready for it.
This play is amazing. Smith not only instantly recognizes that the running back is going out to be a safety valve, but he actually peels off and covers him. Not many linebackers have the athleticism to just change direction like this. Perfect recognition by Smith, even more spectacular that he made the play look that easy.
Oklahoma tried some trickery, but Smith wasn't fooled at all. Smith saw the toss back to Hollywood Brown and was ready for him to come back around the field. He then fights through a block to get into position to make the tackle. Textbook reaction skills.
 In this play, Smith recognizes that Bama is going to try to "pick" him and allow Scarbrough to be open for a big gain. He prevents the big play by perfectly dodging the pick attempt and making the tackle on the big running back. You can't play this any better than Smith did. He perfectly diagnosed the play, and was able to put himself in position to make a big stop.
Pass Coverage: As shown throughout the gifs above, Smith shows great range when covering receivers/running backs. He is just so fast and physical in man coverage, especially in the flats.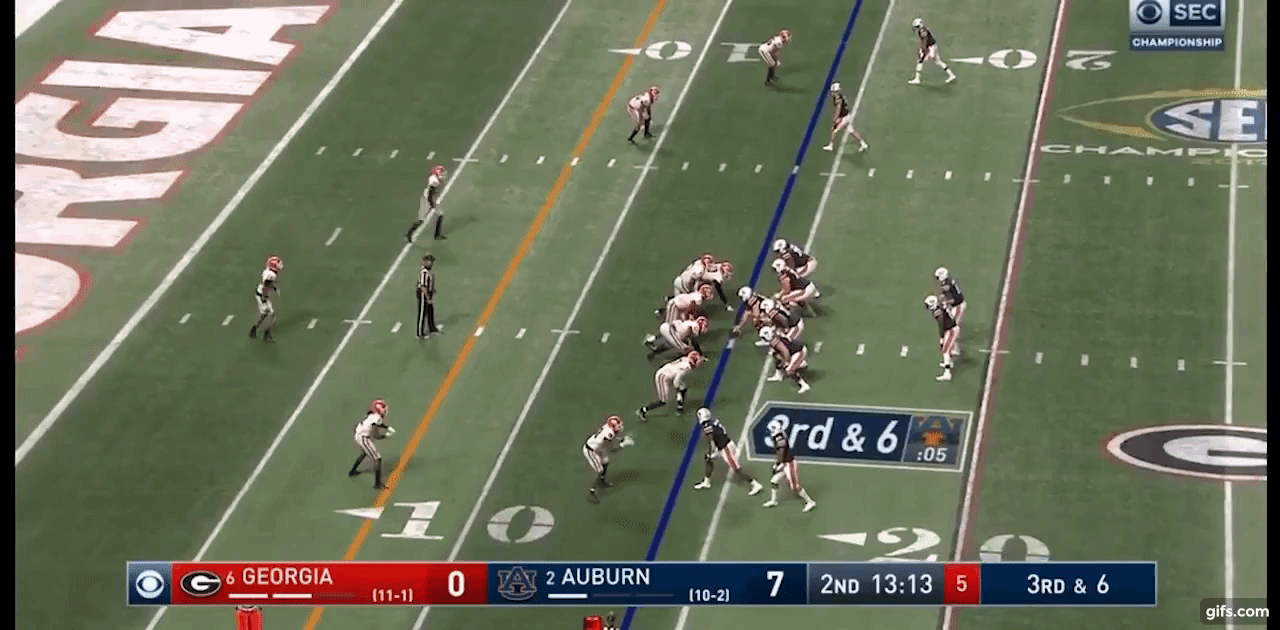 Here's another good example of Smith's man coverage ability against running backs. He mans up quickly on the running back and shows great fluidity and technique by staying with him stride for stride.
In zone coverage, Smith's athleticism and fluidity allow him to quickly change direction and keep up with receivers..
Tackling: You'd be hard pressed to find a better tackler in this draft class, or any draft class, than Roquan Smith. Smith always puts himself in great position to make tackles and when he gets his hands on the ball carrier, it's over. 
 We have seen Smith tackle some big players with ease, but what about the shiftier ones? Watch Smith come down and not get shook , making a great tackle in space on a quicker receiver.
And like all good linebackers, Smith is not afraid to lay the hammer on ball carriers.
Blitzing: Roquan Smith proved in 2017 that he is a very effective blitzer, racking up 6.5 sacks after having 0 in his first 23 games.
 Smith times the snap very well here and does a fantastic job sidestepping the block from Kerryon Johnson. He's so athletic that he is hard to get a grip on once he gets going.
Weaknesses:
As much as I love Roquan Smith, he is not a perfect prospect.
While I disagree with the concerns over his size, many have pointed out that both his height (6'0″) and weight (225) are both on the low end of the threshold for NFL linebackers. While he may be on the smaller side, the NFL is starting to adopt smaller, faster linebackers that match up well with slot receivers and running backs. Smith does that, but also plays bigger.
His biggest concern for me, and many others, is that he gets eaten up by blocks too often and too easily. This is due to his size and strength, but he has way around this.
 Here we see him being eaten up by a blocker and being taken out of the play. These types of plays show up a lot on tape, but it's not a deal breaker to me. Especially when we see how he counters in the play below.
 Here he is just so fast in space that he evades being blocked and makes the tackle.
Speed is becoming paramount in NFL defenses as teams try and catch up to high powered offenses. This means that teams are willing to sacrifice some pure strength, if defenders can make plays in space all over the field.
How Does He Fit with the 49ers at the #9 pick?:
Ideally, Roquan Smith would play weakside linebacker (WILL) in Robert Saleh's defense with Reuben Foster in the middle (MIKE), giving the 49ers a formidable, young LB duo (gee doesn't that sounds familiar). Smith's elite athleticism and overall ability would make him the perfect compliment to Foster at the WILL because they can both keep up with the weapons of the NFC West (David Johnson, Todd Gurley, etc.) without sacrificing any of the power held by more "traditional" linebackers. These two super talented, super athletic linebackers would terrorize the offenses of the West to no end.
Of course, if Foster never gets his act together (I think he will, but it's still an important question) I believe Smith would be an even better MIKE. His speed and athleticism allow him to make plays all over the field, and being the centerpiece of the defense will allow him more opportunities to showcase these abilities.
Either way, Smith would be a great pick for the 49ers as they look to build a championship caliber defense now that full-time hunk and part-time franchise QB Jimmy Garoppolo is locked up, and they possibly look towards free agency to help solidify the rest of the offense.
Talents like Smith are extremely hard to pass up on, and if John Lynch said the 49ers considered Foster at #3 in 2017, Smith should definitely be in play at #9/10 this year.